School will be closed through December. We will reevaluate to establish
when school will resume as we approach this date.

Dr. Debra J. Taylor
Superintendent
Hang in there, SCS families!
You are doing a GREAT job!
We are here for you-- give us a call if we can do anything to help!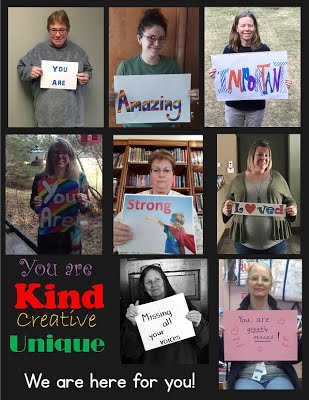 To prepare all SAU 7 students for success in whatever path they choose.
October 13, 14, 20, 22, 27, 28
SAS Testing- Grades 4-8
October 21st
Picture Day
Week of October 26th
Red Ribbon Week
November 2nd
Student of the Month Awards
**NOVEMBER 3rd**
Presidential Elections-- Voting at the TOWN OFFICE
November 6th
Quarter 1 ends / Grades close
November 11th
No School: Veterans Day
November 13th
Quarter 1 Report Cards go home
World Kindness Day :)
November 20th
Honor Roll Awards
November 25th - 27th
No School ~ Happy Thanksgiving! :)